Situated in South-East Estonia, Toftan AS is a company which produces sawn timber and is one of the fifteen partners in the Woodworking Industry Development Cluster. Toftan AS was founded in 1995 when they opened their first sawmill in Sõmerpalu parish. The company has come a long way and is now a member of Estonian Forest and Wood Industries Association and also has FSC and PEFC certificates.
The company's first sawmill, named Toftan 1, consumes 350 000 cubic meters (CBM) of logs annually, which corresponds to 10 000 truckloads. First of each log is scanned and measured separately in 3D log scanner with an accuracy of 1 mm. All logs are sorted according to quality, dimensions and shape and are then piled according to their diameter range. Production of order starts with debarking of logs. Best sawing position is found using 3D scanner, thus maximizing the production of each separate shaped log. Sawline of Toftan 1 has 12 band saws in 3 sawgroups. After sawing and before edging, all sideboards are additionally scanned for optimization of value. If the log is not straight, the curve sawing is also possible. After sawing, timber is sorted according to the size and then sent to drying, which process is controlled by a computer. Toftan 1 has 28 kiln chambers with total volume of 3100 CBM of sawn timber. After drying, sawn timber is sorted according to the quality and length, where quality assessment is done visually. Timber is lastly packed and wrapped in plastic foil to protect wood from weather conditions. Toftan 1 produces 200 000 CBM of saw timber annually.
The company produces over 700 different products for the customers all over the world. Earthquake proof houses in Japan, houses, scaffolding and furniture in North-Africa, building constructions in Europe, window scantlings and door components, gluelam beams for buildings and bridges manufactured in Estonia and exported – just few areas where their sawn timber is used. The logs for the sawmill are sourced from surrounding forests of South-East Estonia and North Latvia.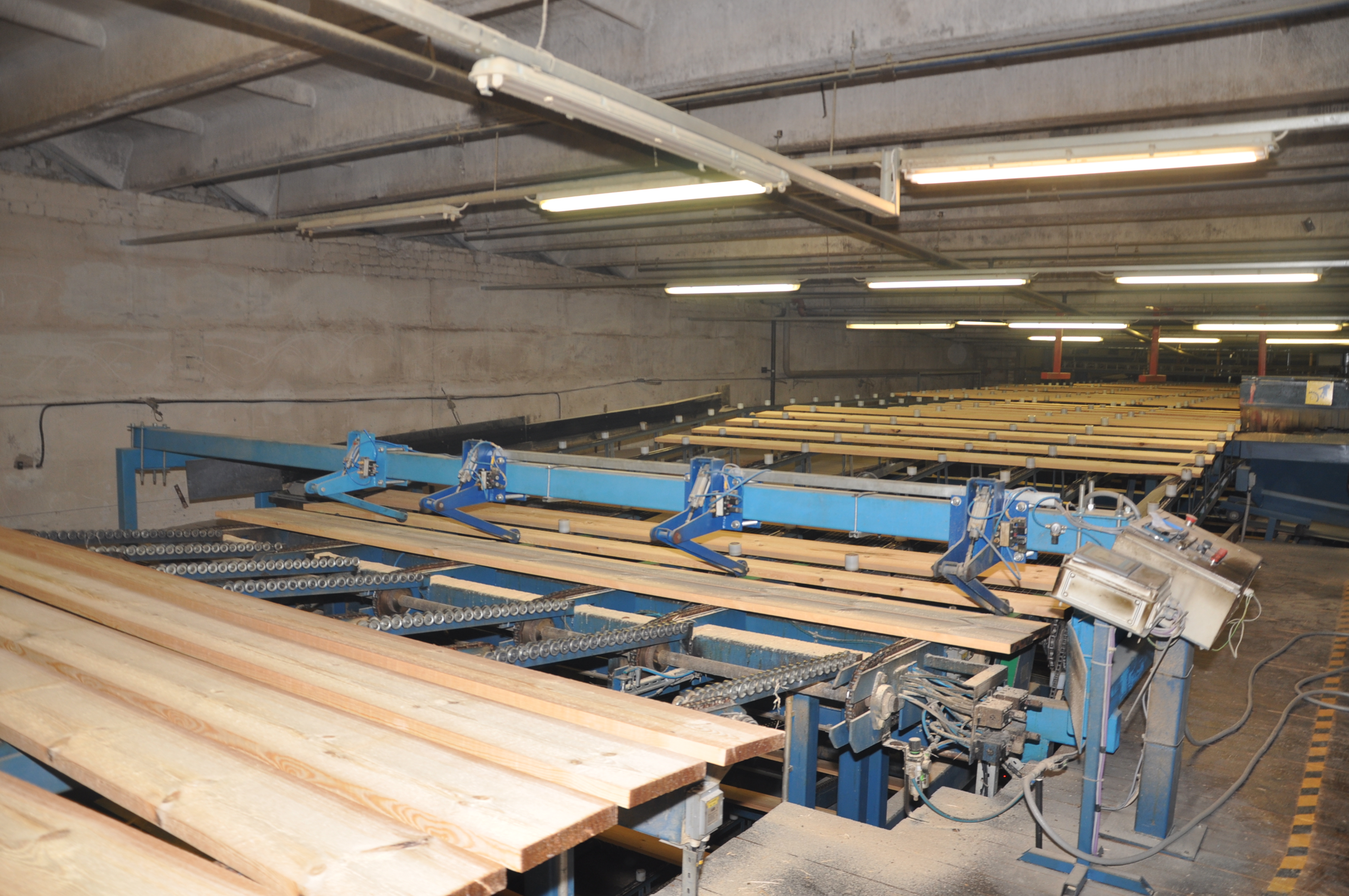 Freshly-sawn timber on a sorting conveyor (Toftan 1)
Earthquake proof houses in Japan, houses, scaffolding and furniture in North-Africa, building constructions in Europe, window scantlings and door components, gluelam beams for buildings and bridges manufactured in Estonia and exported – just few areas where their sawn timber is used.
In 2017, Toftan AS opened a grand addition to their traditional sawmill Toftan 1– the Toftan 2, which is situated next to sawmill Toftan 1. Toftan 2 is the fastest and most efficient sawmill in the Baltics, intended to produce timber for variety of uses. While Toftan 2 is capable of producing over 200 000 CBM of sawn timber a year, the company strongly believes in quality over quantity, which is why Toftan 2 is equipped with leading-edge technology providing flexibility of products and batch-sizes. Toftan AS will be looking over the steps needed for a log to become a high-quality kiln dried timber ready for delivery. Logs arriving to the mill are approximately 3 meters long with a diameter within 80 to 200 mm. First of logs go through a log scanner which provides an accurate 3d scan of the log. Numerous saw patters are tested on that 3d scan and then taking account of the best match over the value, logs are sorted accordingly. All-natural deviations of a log – sweep, ovality, taper – are taken into account, minimizing defects in sawing process. Up to 50 logs per minute are evaluated and sorted in this step of a process.
After sorting the logs all of them go through a debarking process from end to end, thus reducing top damage from the debarking machine. All bark that is left is used for making heat energy in boiler plant next to Toftan. All logs are again scanned with a 3D scanner prior to sawing so that desired saw patterns can be placed on the log 3D image and best position for sawing can be achieved. Following the instructions from the scanner optimization computer logs are converted into sawn timber with the single pass at the speed of 200 meters per minute or more than 50 logs per minute. Sawn timber ends up in the buffer zone on conveyors to maximize the use of the sawing machine time. When ready, stickered kiln packages are made and taken directly to the kilns green zone. 24 packages which is around 200 CBM of wood, make the kiln batch ready for drying. Kilning takes between 3 to 6 days in which the upper load presses directly on the stacks to minimize the twist of timber. Kiln dried timber is then left to wait for sorting in the dry zone until it will be directly taken to the dry sorting line. At the dry sorting line, timber is sorted into different grades according to the structure of wood. This enables the timber to be directly used for further process, making up different products without waste. In-addition the stack is separated layer by layer. After separation, unscrambled boards are inspected piece by piece from all sides with high accuracy cameras and analyze the result, searching for quality issues of wood – size and character, wood structure, but also the dimension and processing inaccuracy. 8 computers make decisions at a production speed of up to 270 boards a minute. From there, timber is cut to the right length with high accuracy by the trimmer. Toftan 2 versatile trimmer can provide any length needed. Timber in different lengths are separated and collected accordingly for stacking of the completed product. A high-speed stacker can stack up to 30 layers of timber in a minute. The finalized stack is wrapped into a plastic sheet to protect it from weather conditions. Depending on the final usage and customer, stacks are loaded to delivery trucks or sea containers so it can start its journey from grand addition to Toftan 1 sawmill from Toftan 2.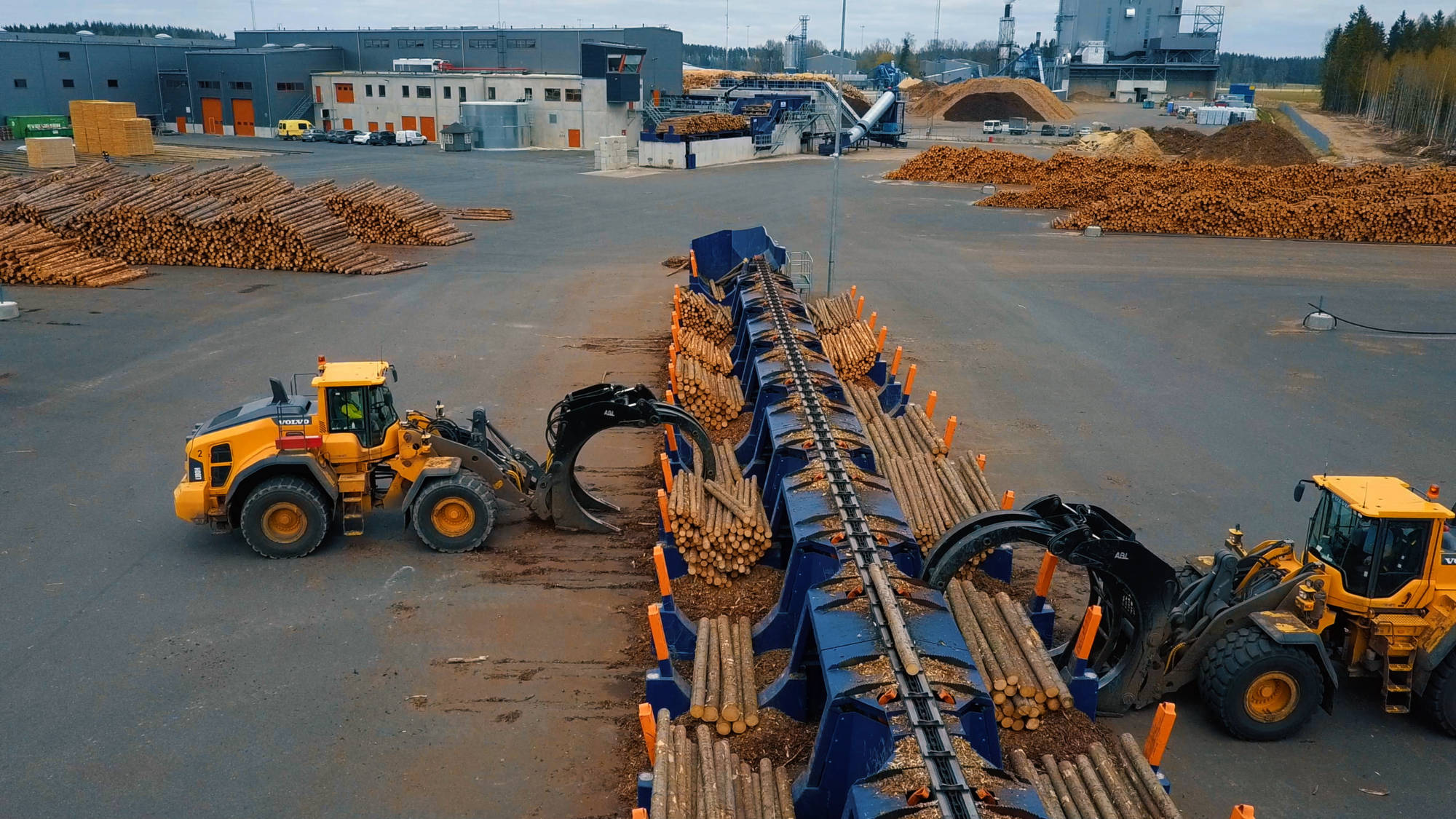 Logs are sorted after an accurate 3D scan (Toftan 2)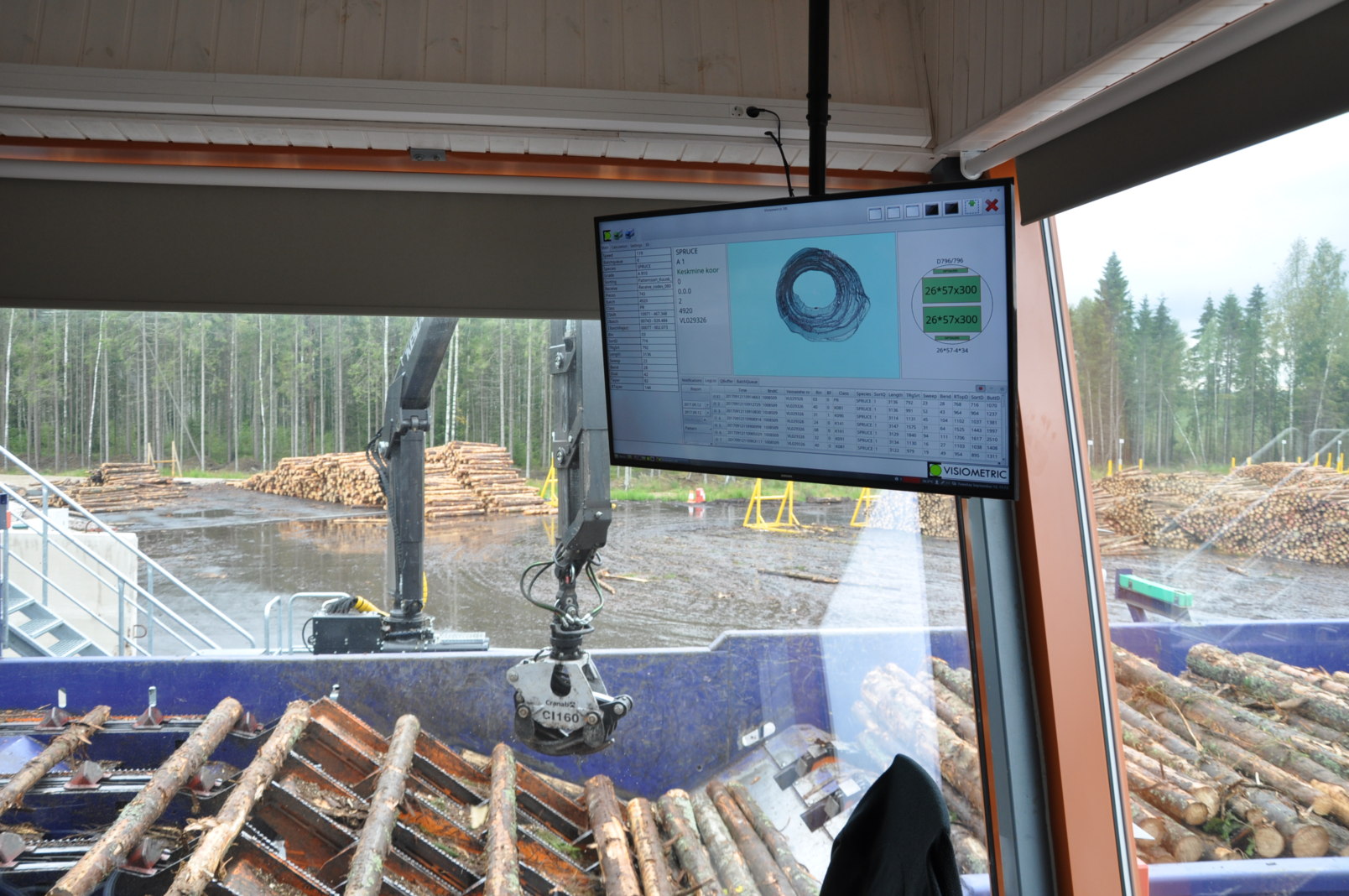 The 3d scanner is testing numerous saw patterns on a log (Toftan 2)
In terms of work conditions and work safety, Toftan AS makes regular investments to improve the safety in the sawmills. For example, the installed "light curtains" in both sawmills prevent workers accidental deviations from the safe areas to danger zone near the conveyors. In case anyone or anything cross the invisible barrier, the whole conveyor stops.
In conclusion, skills of Toftan AS team and right investments have formed a unique technological setup providing flexibility of products and batch sizes combined with high yield and productivity. The company is continuously developing productivity, quality and yield. Those developments promise higher production volumes in future. Members like Toftan AS in the Woodworking Industry Development Cluster are strengthening the international competitiveness of the Estonian wood industry, which in terms of efficiency and productivity can be compared to Scandinavian or North-American wood industry.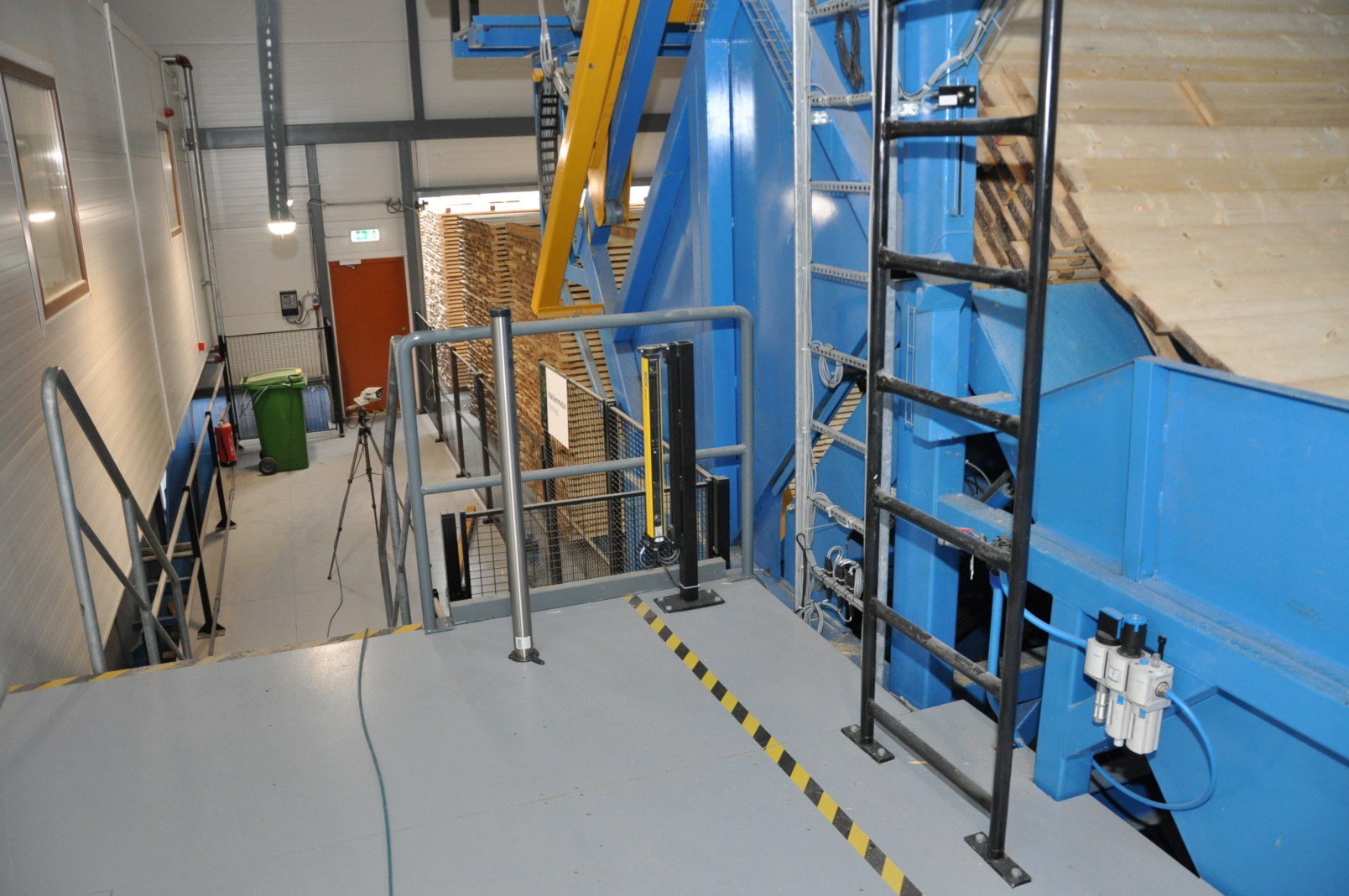 Installed "light curtain" for additional safety (Toftan 2)